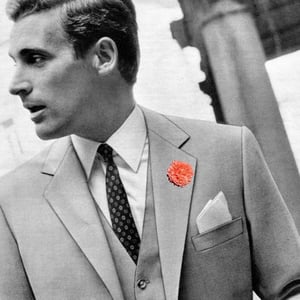 $

30.00
My lapel carnations will never droop, wilt, turn brown, or leak like real flowers: they're completely handmade! I make each one myself, individually, like everything else here at TT&S.
Complete information on the Forever Boutonnières, and the colors in which they are offered, is available on the Mr Thompson's Ties & Squares homepage.
They are constructed of tissue-grade paper, and hand-dyed in a selection of five colors. Their hues complement those of the Razor Squares. The "stem" is designed to hold the boutonnière in place against your lapel.
These could be the last boutonnières you ever buy -- they have a lifetime replacement warranty! The delicate petals, while they will never wilt, may get damaged through the course of time. You need never worry about ruining your Forever Boutonnière, though! If it needs replacement at any time, it will be: just send the old one back, and I'll send you out a new one for free, forever.*
The boutonnières are available singularly or in a set of two, fitted in a tin case to keep them safe when not being used, with a personalized Lifetime Replacement Guarantee certificate.
*Small print: a boutonnière will be replaced with one of the same color, shipping costs will apply.